Styles¶
This section will detail how to work with the styles pages in the Web administration interface. For more information on styles and syntax, please see the main section on Styling.
Styles are used to control the appearance of geospatial data. Styles for GeoServer are written in a number of different formats:
Styles page¶
On the Styles page, you can add a new style, remove a style, or view or edit an existing style.

Add a Style¶
The buttons for adding and removing a style can be found at the top of the Styles page.

To add a new style, click Add a new style button. You will be redirected to the new style page, which is the same as the Style Editor Data tab.
The editor page provides several options for submitting a new style:
Type the style definition directly into the editor.

Generate a new default style based on an internal template:

Generating a new default style.¶

Copy the contents of an existing style into the editor:

Copying an existing Style from GeoServer¶

Upload a local file that contains the style:

Uploading an file from the local system¶
When creating a style, only the Data tab will be available. Click Apply on the new style to stay on the Style Editor page and gain access to all tabs.
Remove a Style¶
To remove a style, click the check box next to the style. Multiple styles can be selected at the same time. Click the Remove selected style(s) link at the top of the page. You will be asked for confirmation: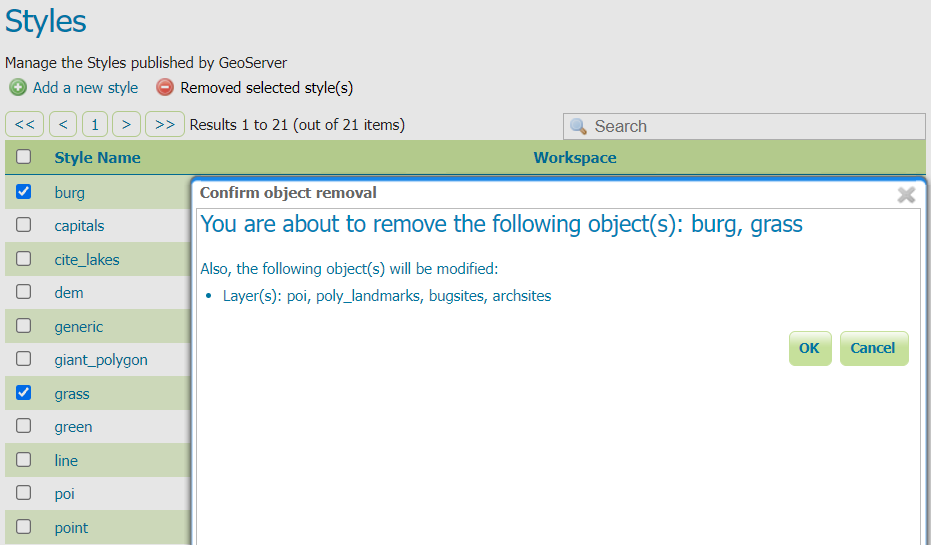 Click OK to remove the selected style(s).
Style Editor¶
On the Styles page, click a style name to open the Style Editor.
The Style Editor page presents the style definition. The page contains four tabs with many configuration options:

At the bottom of the Style Editor page is a number of options:
| Option | Description |
| --- | --- |
| Validate | Will test the current style for correctness according to the Format option selected. For SLD styles, it will check compliance against the SLD schema. Mind, the parser might be able to read and work with a formally incorrect style. |
| Save | Makes the changes to the style and returns to the Styles page |
| Apply | Makes the changes to the style and remain on the Style Editor page. This is useful to update the Layer Preview tab. |
| Cancel | Cancels all changes to the style and returns to the Styles page |