Caching defaults¶
The Caching Defaults page shows the global configuration options for the tile caching functionality in GeoServer, an embedded GeoWebCache.
GWC Provided Services¶
In addition to the GeoServer endpoints, GeoWebCache provides other endpoints for OGC services. For example, the GeoServer WMS endpoint is available at:
http://GEOSERVER_URL/wms?...

The GeoWebCache WMS endpoint is:
http://GEOSERVER_URL/gwc/service/wms?...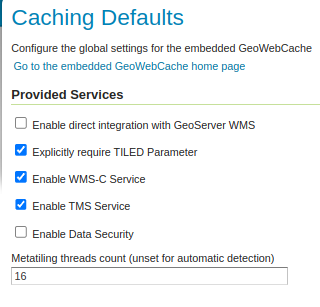 The following settings describe the different services that can be enabled with GeoWebCache.