Tile Layers¶
This page shows a listing of all of the layers known to the integrated GeoWebCache. It is similar to the Layer Preview for GeoWebCache, with many of the same options.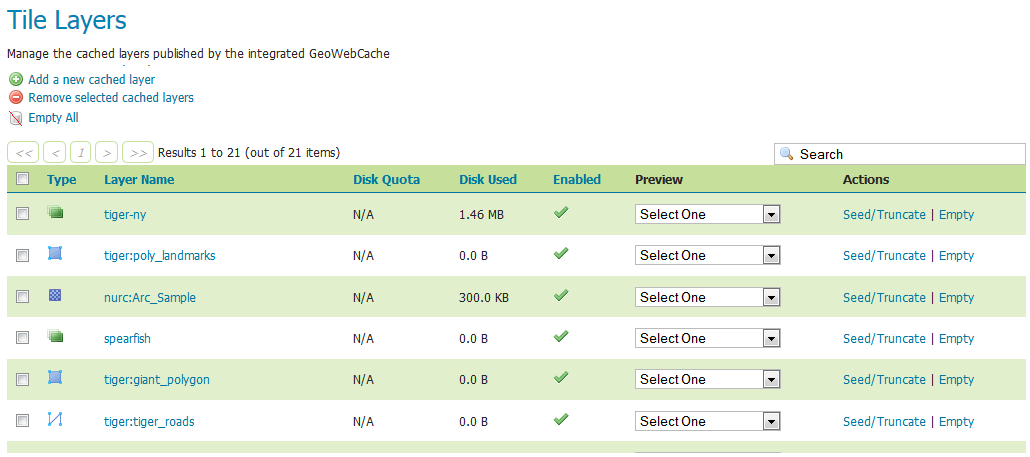 Layer information¶
For each layer cached by GeoWebCache, the following information is available.
Add or remove cached layers¶
The list of layers displayed on this page is typically the same as, or similar to, the full list of layers known to GeoServer. However, it may not be desirable to have every layer published in GeoServer have a cached layer component. In this case, simply select the box next to the layer to remove, and click Remove selected cached layers. The layer will be removed from GeoWebCache, and the disk cache for this layer will be entirely removed.
Warning
Deleting the tile cache cannot be undone.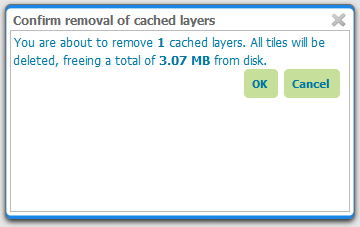 To add in a layer from GeoServer (if it wasn't set up to be added automatically), click the Add a new cached layer link.

Clearing GeoWebCache¶
The Empty all link allows to clear the entire cache, for all layers, grid sets and filter parameters combination.
Warning
This will truncate all layers in GeoWebCache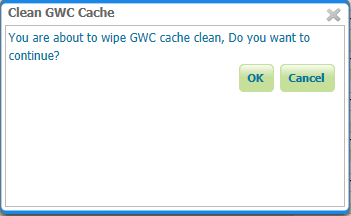 A confirmation will appear on the page as message with names of cleared Tile layers.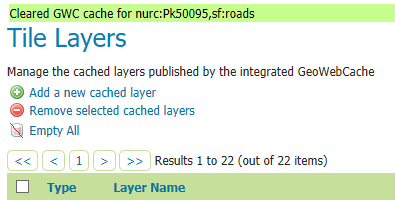 Configuring a cached layer¶
You have two options for layer configuration. The first option is to load the layer using the default (global) settings. To do this, select the layer you wish to start caching, and click the Configure selected layers with caching defaults link. The second option is to configure the caching parameters manually, via the layer configuration pages. To do this, just click the layer name itself.
Parameter Filters¶
Parameter filters allow GeoWebCache to cache a layer with varying parameters such as STYLES, TIME. One is needed for each parameter to be cached and it needs to know how to recognize valid values to be cached and which values are the same as other values so they only get cached once. There are several different kinds of filter as a result.
Adding a Filter¶
At the bottom of the filter list in the text box beside Add filter specify the name of the parameter. In the drop down box select the kind of filter you want then click the

button. For a filter that automatically tracks the layers styles in a parameter named STYLES click the Add Style Filter button.
Removing a Filter¶
To remove a filter, click the

button to the right of the filter's entry in the filter list.
Types of filter¶
All parameter filters take a default parameter that will be used if the parameter was not specified. Specific types of parameter filter provide different ways of specifying which parameter values are allowed, and which are equivalent to one another and should be cached together.